3-STAR CAMPSITE GULF OF MORBIHAN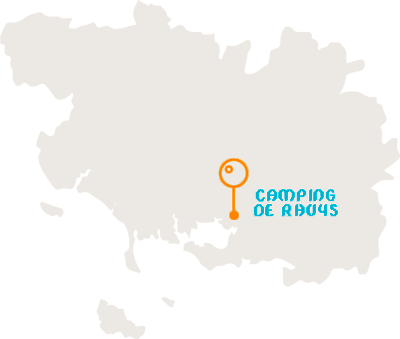 Welcome to the Rhuys campsite***, a family-friendly campsite located in Theix in the Gulf of Morbihan (Brittany), close to the city of Vannes. You will find everything you need for a great camping holiday with the family in Brittany. The small village of Saint Goustan and shops are nearby, like the Market Theix grocery store 5 minutes away.
YOUR 3-STAR CAMPSITE NEAR VANNES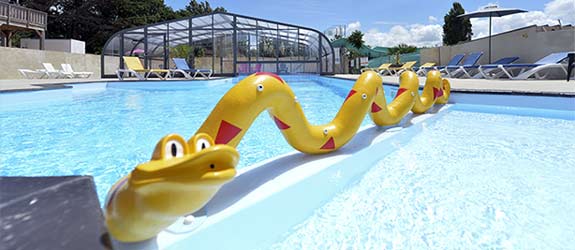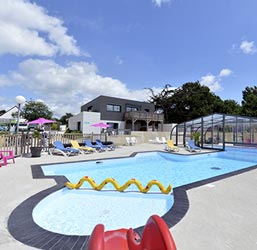 On-site, you can go between the ping pong table, volleyball court, petanque court, and themed evenings for a fun time at our Gulf of Morbihan 3-star campsite.
Children will also have access to a play area with bounce house, all they need to be entertained for a long trip! Not to mention our Tuesday snack night (pizza) and our bar. Come to reception for advice on activities in south Brittany!
CAMPSITE WITH SWIMMING POOL IN THE MORBIHAN
Our French campsite will make your stay in Brittany an unforgettable one with our heated pool area! Whether the weather is sunny or gray, it is always nice to put your feet in the water and relax. There is a wading pool for children where they can splash under parental supervision, and have a great time. The teenagers and the more adventurous, however, will not be content with a simple dip in the big pool…
They will spend all their time sliding down the twisting waterslide for a guaranteed good time! The pool area at our Morbihan campsite is open from 10:00 AM to 8:00 PM so that you can enjoy it all day.


MOBILE HOME RENTAL IN SOUTH BRITTANY
The mobile homes at our Vannes campsite all come equipped and have a covered wood terrace depending on the model.
A minimum of 21m2 of living space and located on pitches up to 120m2, they will make your stay easy since you won't have to bring your sheets with you.
Check out our mobile homes available for rent in the Morbihan for a quality camping holiday in Brittany. For a low-cost camping holiday in the Morbihan, keep in mind that we are a Vacaf campsite.
Heads up to lovers of nontraditional rentals, trade out the classic tent, the canvas bungalow or the mobile home for an unusual accommodation in the Morbihan: the TEEPEES.
MOBILE HOME PITCHES IN THE HEART OF THE GULF OF MORBIHAN
The Rhuys campsite *** offers a warm and friendly welcome in the heart of nature. A truly green setting, this camping field in the heart of the Gulf of Morbihan, full of flowers and pine trees, is the ideal place for traditional campers and and those that travel in a camper. You will find 96 pitches including 29 rental pitches on a total surface of 2.8 hectares.
Choose a sunny or shaded pitch for your tent, caravan or camper, and make a stop at this welcoming campsite in the nature of south Brittany. With its spacious pitches combining comfort and conviviality, our campsite ensures the success of your holiday with family or friends on the Breton coast!

Our Rhuys 3-star campsite offers you a beautiful setting by the sea while maintaining low prices, an ideal option for family holidays. The authorized Vacaf campsite near Vannes will allow you to spend a relaxing holiday in the Morbihan!
Take a wonderful trip into nature at a low cost thanks to our campsite.
For a relaxing holiday at our campsite in Vannes, here are the services available on-site. We also have: cots, high chairs, advice on tours, ticket sales for the islands, a telephone, rental linens, night watch, letters, newspapers, etc…
Bread
& ice cream
Bar
Laundry
Bikes
Grills
WIFI
CAMPSITE WITH ACTIVITES NEAR SARZEAU
The campsite in the Rhuys peninsula in the Morbihan offers, so that your holidays are full of happiness, opportunities to meet and share with other campers.
Themed dinners such as « grilled pig », « mussels and fries », « galettes, crepes », concerts, children's shows (clowns, ventriloquists, magic…) dances (disco).
Petanque, mölkky competitions, cosmetics, cooking workshops.
Activities 2-3 times per week in July and August (July 8th to August 18th).
ALL THIS IN A VERY FAMILY-FRIENDLY ATMOSPHERE THAT IS « GOOD FOR CHILDREN »…
We ensure that your days and evenings will be pleasant.

CHILDREN
Activities for children at the campsite during July and August! Everything they need to have fun!

ACTIVITIES
Activities for young and old! Cooking, cosmetics workshops, petanque etc…

EVENING EVENTS
Evenings to spend with family
or friends.
WHAT TO DO DURING YOUR HOLIDAY IN SOUTH BRITTANY?
Between walks along the seafront, visits to the fishermen's villages and discovering the Marais de Sene nature preserve, south Brittany will show you its thousand and one wonders for a holiday full of discovery.
10 minutes from the beaches of Sarzeau in the Gulf of Morbihan, in a lovely quiet and green setting, the Rhuys peninsula campsite*** is an exceptional place to discover unspoiled nature and the pleasures of life in the open air.
Let's start with the river network. A few steps from our campsite in the Gulf of Morbihan flows the Marle, along which you will find the fortress of Vannes and one of the region's old wash houses. More to the north, there is the Ria d'Etel (literally river of Etel), leading to the Atlantic ocean facing the Ile de Groix. Then head to the resort town of Ambon to the South to find the third River, the Penerf.
Then let's talk water sports. In 15 minutes by car, you can go to the Conleau peninsula, between land and sea, and enjoy the scenery of the Gulf of Morbihan where you can play sports such as paddleboarding, sailing or canoeing or kayaking.
It is home to the Ile d'Arz and the Ile aux Moines. Every two years there is the Gulf week during which hundreds of sailors meet up for a trip between the islands. In 2017, it ran from May 22-28.
Beyond sporting activities, go discover the towns of the region and their rich cultural heritage. Step away from the edge of the sea to find Rochefort-en-Terre a half hour drive away. If you prefer, take a tour of the Gulf by the north in the direction of Trinite-sur-Mer and pass by Crac'h, or Saint Philibert. Continuing on your way, you will come face to face with the famous Peninsula of Quiberon from which you can see the Ile d'Houat and Belle Ile en Mer. Along the fabulous Bay of Quiberon, wander the wild coast and follow the trail for an unforgettable hike.
Our Vannes campsite (Brittany, France) is open from March 31st to October 28th.
Feel free to contact us by phone or email for more information. You can also view and download the booking contract online and the brochure for our Vacaf campsite for basic information (cancellation insurance, rates, holiday vouchers, etc…)
We'll see you soon at our Rhuys campsite *** in the heart of the Gulf of Morbihan!
USEFUL INFORMATION,
ON OUR CAMPSITE